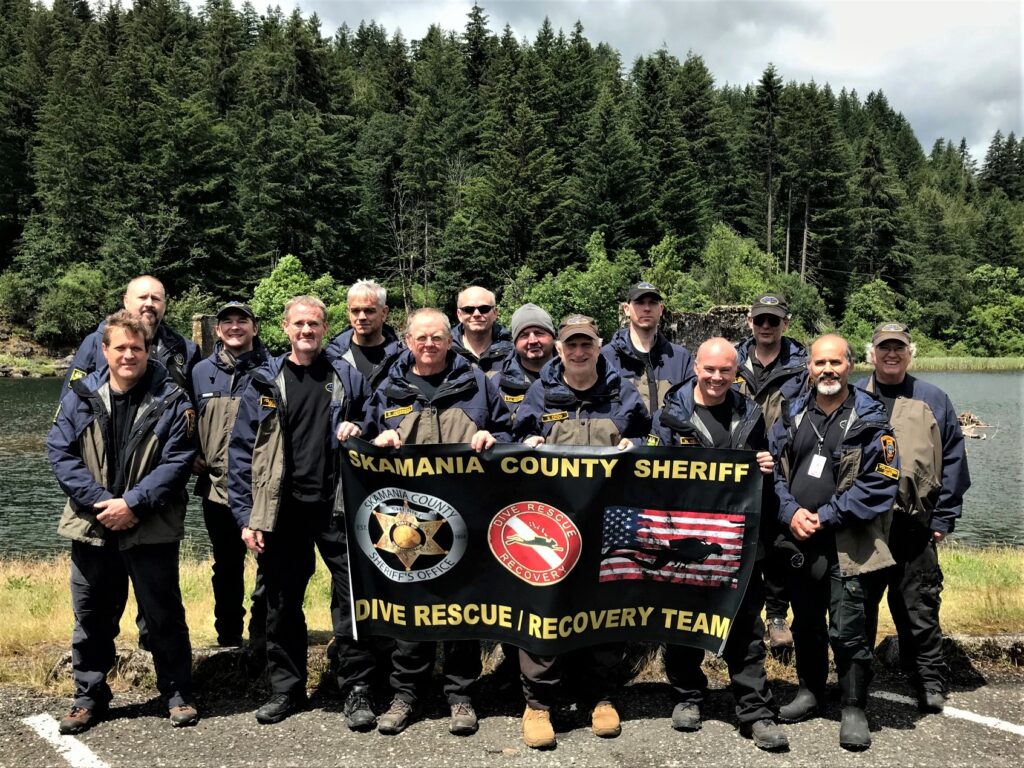 In 1999 Skamania County developed a local volunteer Dive Rescue / Recovery Team to assist in Sheriff's Office dive operations. These volunteer divers work directly with Law Enforcement Divers.
The Skamania County Sheriff's Office Dive Rescue/Recovery Team consist of 15 members who are both sworn full time law enforcement officers and volunteers throughout the region.
The S.C.S.O. Dive Team is supervised by Arne Gonser (Sgt. Ret) along with his Assistant Team Leader, Carl Johnson of Home Valley, WA. Both are Master Divers through the National Association of Underwater Instructors.
The Skamania County Dive Rescue/Recovery is a non-profit organization and the divers provide all their own dive rescue equipment.
The dive team members are required to participate in regular in-service dive team trainings, which consist of: underwater searches, navigation, underwater crime scenes, body recoveries, basic ropes/repelling, underwater rigging and lifting, others, and be available for emergency call-outs at any time.
The Skamania County Dive Team has also provided Dive Rescue/Recovery services for Klickitat, Cowlitz, Clark, Hood River, Multnomah, Wasco, and Sherman Counties.
Person interested in becoming a member of the Skamania County Dive Team must submit a written application available at the sheriff's office or by the link below.
SKAMANIA COUNTY S.O. DIVE TEAM APPLICATION
Applicants must:
Pass an extensive criminal background check.
At least 18 years of age and hold a valid drivers license.
Be minimally certified as a "rescue Diver" or willing to obtain through a nationally accepted organization or military.
Be First Aid/CPR qualified.
Have all required basic diving equipment with current inspections.
Be in good physical condition and be able to handle stressful situations.
Be a team player and work well with others.
Be able to work in inclement weather, cold, dark, murky water and rough terrain.
Once an opening becomes available, pending applications will be called in and oral boards will be conducted. Oral boards will comprise of up to three dive team members. Background and scenario questions will be asked.
For any Dive Team questions or information please email Arne Gonser at arneg@co.skamania.wa.us